6 of the Best Small Garden Greenhouses and Raised Garden Beds
Greenhouses and raised beds are excellent tools for green thumbs who want to ensure the growing conditions of their plants. By using these structures, gardeners are able to reap and sow more. To help you on your gardening journey, we've listed 5 options of small garden greenhouses and raised garden beds you can purchase on Amazon.
Small Garden Greenhouses
A greenhouse, sometimes called a glasshouse, is a framed structure made out of glass or plastic designed to provide a controlled environment for sensitive or out-of-season plants. In a greenhouse, plants benefit from the regulated temperature, light levels, and protection from insects and conditions that threaten to destroy the plants.
Are you in the market for small garden greenhouses? The Home-Complete 4-Tier Mini Greenhouse might just be what you're looking for! The greenhouse shelving unit is made of durable alloy steel and has a sturdy PVC cover that protects your plants from pests, frost, and rain. A clear roll-up door is also installed with the cover for accessible gardening, proper ventilation of your plants, and maximum sunlight exposure.
Each of the 4 shelves of the Home-Complete Mini Greenhouse measures 27 inches wide and 14 inches tall and can hold up to 24 lbs. The mini greenhouse also has lockable wheels to make moving it and keeping it in its place easy and simple. Place it inside your home, patio, or backyard, and start planting today!
Another option for green thumbs looking for small garden greenhouses is the Ohuhu 3-Tier Walk-in Greenhouse. Measuring about 55 inches wide, 56 inches long, and 77 inches tall, the Ohuhu Greenhouse has 12 wired shelves that can easily house all of your plants and gardening tools.
The Ohuhu Greenhouse cover is made of meshed PE material that is see-through so that you can easily monitor your plants from the outside. Its cover also has a zippered roll-up door and 2 windows for easy gardening access for you and great ventilation for your plants. Additionally, the PE cover is rainproof, blocks pests, and offers frost protection.
Start your own little greenhouse in the comfort of your home with the Ohuhu 3-Tier Walk-in Greenhouse. You can begin by just planting seedlings or you can extend the growing season of your favorite vegetables.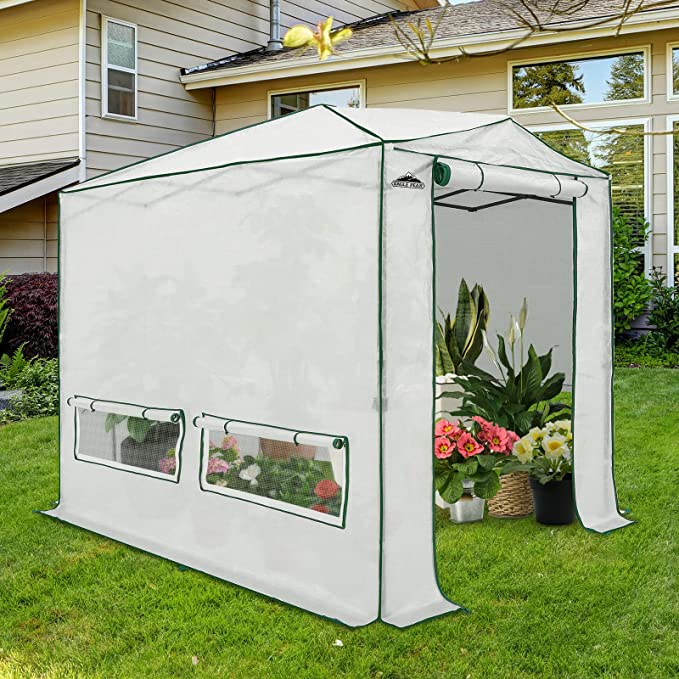 The Eagle Peak Portable Walk-in Greenhouse is a pop-up greenhouse that can be installed in one easy push by a single person, no assembly needed! It allows for a walk-in height of 5.6ft and it weighs a total of 40 lbs.
The greenhouse cover is made of waterproof and durable laminated PE film and has a roll-up, two-way zipper door and mesh windows that allow for greater ventilation of plants. Its PE material also allows 70% of light to come in so that your plants maintain the perfect temperature and moisture inside the greenhouse.
The greenhouse frame is made out of steel ensuring stability and safety when inside. You can keep your greenhouse tied down using the 14 stakes and 4 guy-wires included with the Eagle Peak Portable Greenhouse. The bottom of its side covers are also extended so you can weigh them down for added stability.
Raised Garden Beds
A raised bed is an enclosed frame constructed above ground level. Raised beds provide plants with improved soil conditions, water conservation, and higher yield thanks to their height and minimal growth of weeds. It's also more accessible since the higher the raised bed the less you have to bend over to take care of your plants.
Have fresh and delicious herbs at hand for your recipes with the VegTrug 8 Pocket Herb Garden. The VegTrug Herb Garden is an easy-to-assemble raised bed made out of durable and 100% Forest Stewardship Council-certified cedar wood. An herb divider is included with the VegTrug planter to help keep your herbs and their soil healthy and well-aerated.
It has an ideal working height of 23 inches which allows for easy harvesting of herbs without hurting your back. The VegTrug is 31 inches wide and 31 inches long and weighs lightly at 17 lbs. It also has a handy lower shelf that can be used for storing your gardening tools so it's always ready when you tend to your herbs. Since the shelf is also elevated, your tools and seed packets will be safe from damp ground. Plant saffron, stevia, oregano, and more with your very own VegTrug 8 Pocket Herb Garden.
Elevate your home gardening game with the Foyuee Raised Planter Box. This raised bed is made of stable galvanized steel with an anti-rust coating and weighs 23.4 lbs. Its planting box is a sizable 37 inches long by 15 inches wide and is 8 inches deep which can hold an ample 2.5 cubic feet of soil for your plants.
The Foyuee Raised Planter Box can easily be assembled and moved around with its handle and wheel design. Have a space for all your gardening tools as well with its accessible lower shelf. A drainage hole and drainage line are built in the middle of the cart as well so that waterlogging can be prevented. Place it in your patio, yard, or outdoor garden, and enjoy this sleek new addition to your home.
Greenhouse or Garden Bed?
Whether you choose to go with small garden greenhouses or raised beds is completely up to you. Both these structures can help you extend your growing season, increase your crop yield, and save water. These days, you don't need to build large gardening structures from scratch as you can easily buy them online. With careful planning and research, you can be well on your way to healthy and fresh produce every day. Plus, with the Quictent 3 in 1 Kit, you won't have to choose one over the other.
Are you torn between raised garden beds and small garden greenhouses? Look no further than the Quictent's 3 in 1 garden bed with greenhouse kit. You can customize the kit to be used as a raised garden bed, or a dismountable mini greenhouse, or combine them into a garden bed with a mini greenhouse!
Quictent's raised garden bed is made of thick, galvanized steel that can withstand different weather conditions. Measuring 6 x 3 x 1 ft, the garden bed provides a large growing space for your plants. The mini greenhouse is made of PVC and its window design allows you to easily water and keep your plants cool with its zippered screen windows.
A bonus for those looking into buying the Quictent Raised Garden Bed with Mini Greenhouse is the 5-year warranty that comes with the garden bed and a 1-year warranty for the PVC cover. Included in your purchase are garden gloves and 20 pieces of T Tags.
From Garden to Table and Table to Garden
We have what you need to start growing your own food indoors or outdoors, as well as turning your food scraps into your own organic fertilizer.