9 Indoor Gardening Supplies You'll Need For Your Home Garden
Indoor gardening has become increasingly popular in recent years since people can grow plants in controlled environments that don't require a ton of space. However, indoor gardening also presents some challenges to green thumbs such as limited gardening space and providing the proper growing conditions for plants. Fortunately, with the right equipment, these challenges can be overcome. We've rounded up a list of 9 indoor gardening supplies to do just that!
Keep your gardening mess-free and pain-free with the H&GT Garden Kneeler and Seat. This gardening stool is both a bench kneeler and work seat perfect for senior gardeners or those with knee conditions. It can help alleviate knee and back pain thanks to its reinforced frame and arms.
The H&GT gardening stool frame is made of metal while the cushion is made out of soft EVA foam. It weighs 5.7 lbs and can be folded without the use of force making it portable. The gardening stool also comes with a removable velcro pouch so you can have your gardening tool at the ready.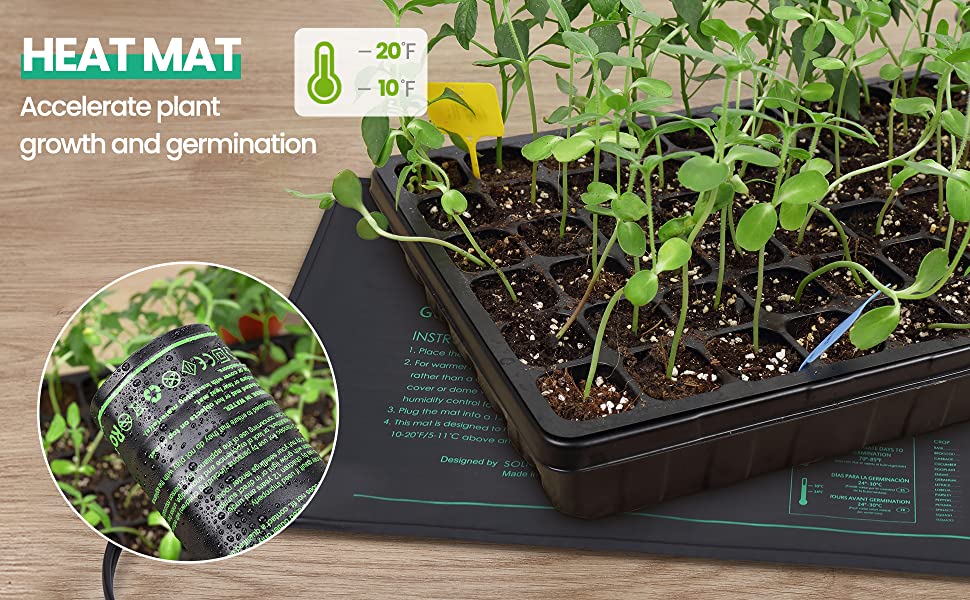 Start a whole new garden with the Soligt Seed Starter Kit. The kit includes 2 seed growing trays with 60 cells each, 2 humidity domes, and 2 seedling heat mats. The seedling tray is durable, reusable, and recyclable.
The Soligt humidity dome and seed tray fit tightly together so that heat and humidity are maintained. Two circular vents are also present in the dome providing airflow control and maximum light penetration. The heavy-duty and waterproof mat warms the soil for optimal seed germination. No drainage hole can be found on the seed trays so you won't have to worry about constantly watering your seeds.
Complete your indoor gardening supplies with the CHRYZTAL Garden Tool Set. This kit includes a cultivator, hand rake, large and small trowel, weeder, and pruning shears. All tools are made of thickened stainless steel with a 2mm thickness. Each tool is designed with non-slip handles so that there is less stress on the wrists.
A robust and easy-to-clean cloth tote is also included to keep your tools neatly packed and protected. All 7 tools have their own pockets and an elastic cord helps keep them in place. For additional storage options, each tool has a hanging hole so that you can hang them anywhere.
Put your plants on full display with the Bamworld Plant Rack. This plant stand is made of durable and moisture-proof wood. It has a large storage capacity and can be placed indoors or outdoors.
The shelves are held together by sturdy ABS plastic joints that make the entire plant rack stable. Installation is simple and every shipment comes with a hammer and a pair of gloves to make it easier to assemble. Each package contains plenty of connectors so that you can install the plant rack as you desire.
A perfect addition to your indoor gardening supplies kit is the Hytekgro LED Grow Lights. This 2-pack set of light panels emits the targeted peak wavelength that plants need from natural sunlight to make them grow healthier and faster. It runs quietly and has excellent heat control which leaves your plants unharmed.
The Hytekgro LED Grow Lights are lightweight weighing about 3 lbs and can cover an area of 3 x 3 ft of plants. It can be installed easily and quickly in just one minute thanks to the steel hanging brackets included with the panels. It also is energy-efficient so you can save on your electricity bill.
Repotting plants doesn't have to get messy with the Owl Focus PE Plant Repotting Mat. Measuring 27×27 inches, this thick reusable PE fabric is stain-resistant and waterproof. It features a two-copper snap design at each corner to prevent spilling water or soil when in use.
You can use the Owl Focus mat for various indoor gardening needs like repotting and pruning your plants. It is also suitable for other activities outside of gardening like doing crafts. The mat is easy to scrub and clean after use. Its foldable design also allows for convenient storage when you don't need it.
Protect your hands while taking care of your plants with the COOLJOB Gardening Gloves. These gloves are durable and flexible as they are made of soft but sturdy foamed latex. It is lightweight and breathable and will keep your hands cool and dry while working.
The Cooljob gloves have thickened fingertips to protect your hands and nails. Its long cuffs will keep any dirt out while gardening. It's not only for gardening as you can use it for other activities such as wood carving and repairing vehicles.
Decorate your indoor gardening supplies set with the sleek Remiawy Watering Can. The watering can is made out of stainless steel and is not easy to rust. It has a glossy polished finish so it can resist scratches and corrosion from daily use. With a capacity of 40 ounces, it's perfect for watering indoor plants as well as outdoor ones.
The Remiawy watering can also has a friendly handle design. Even when full, it can easily be held by kids or those who suffer from arthritis. With its long and narrow spout, it is also efficient at watering plants closer to the soil, avoiding splashes. The Remiawy watering can comes with a one-year warranty.
Have you always wanted to grow your own fresh herbs but don't know how? Now you can start your herb garden with the Indoor Herb Garden Starter Kit. The kit comes with 4 seed packets, 4 durable burlap pots, and 1 soil disc to fill all four pots. It also comes with 4 bamboo markers, pruning shears, and an instruction manual.
Now you can plant parsley, cilantro, basil, and chives that come with the kit. The seeds are sourced from 100% non-GMO seeds from local farms. The kit is for both seasoned green thumbs and beginners. Your Indoor Herb Kit also comes with a money-back guarantee. If you're not satisfied, you'll be fully refunded with no questions asked.
The Bottom Line
In conclusion, while indoor gardening may present challenges for beginners and seasoned green thumbs alike, there can be many tools to make gardening convenient. There are tools with easy storage options and large capacities. There are grow lights and starter kits to grow new gardens with. Truly, there are many indoor gardening supplies that can make your indoor garden a success.
From Garden to Table and Table to Garden
We have what you need to start growing your own food indoors or outdoors, as well as turning your food scraps into your own organic fertilizer.