Small Hydroponics Systems: 5 of the Best Starter Kits for Beginners
Hydroponics is a method of growing plants without the use of soil. Instead, hydroponics grows plants in a water-based nutrient solution with or without the support of mediums like sand, gravel, or perlite. The nutrients that plants normally get from the soil are dissolved in the solution instead. Hydroponics has been known to produce peppers, lettuce, and herbs. Beginners can start with small hydroponics systems first in order to understand how it works. It is possible to grow your plants both indoors and outdoors with hydroponics.
Setting Up Small Hydroponics Systems
Small hydroponics systems include a growing system (this is explained further below), pots, growing mediums, lighting, and aeration. For growing outdoors, all you need is the sun while indoor hydroponics requires supplemental lighting. Aeration can be done passively by leaving an air gap above the water or actively through added equipment the use of an airstone with an external pump.
The simplest hydroponic growing system is Deep Water Culture where plants sit in net pots in a Styrofoam lid and their roots hang down into a container full of water. To maintain your home hydroponic system, changing the nutrient water accordingly and managing insects and disease is a must to keep your plants healthy.
Ready-to-Use Small Hydroponics Systems: 5 Best Hydroponics Starter Kits
Known to be a technically specialized form of agriculture, hydroponics has grown to become so simple that people of all skill levels can successfully grow hydroponically. There are ready-to-use hydroponic systems that do all the hard work for you upfront. In this list, we've rounded up 5 hydroponic systems to get you up and flowing.
Watch your plants go from seedlings to harvest with the LYKO Hydroponics Growing System. This hydroponics setup includes your LYKO growing system, 12 grow sponges, 12 grow baskets, and plant food. It also has plate covers, grow domes, tags, foil stickers, rods, and a charger.
The LYKO Hydroponics Growing System is a self-illuminating and self-watering machine. Its high-performance LED lights turn on for 16 hours and sleep for 8 hours before repeating this 24-hour cycle. You won't have to worry about your plants not getting enough light indoors.
The growing system also has a 3.5L water tank so that you won't need to refill your nutrient water for up to 15 days. The water pump turns on for 30 minutes hourly and it is also a noiseless and fanless machine. With all of your hydroponics needs taken care of (except buying your preferred seeds), you can just set it up and forget about it – for the next 15 days at least.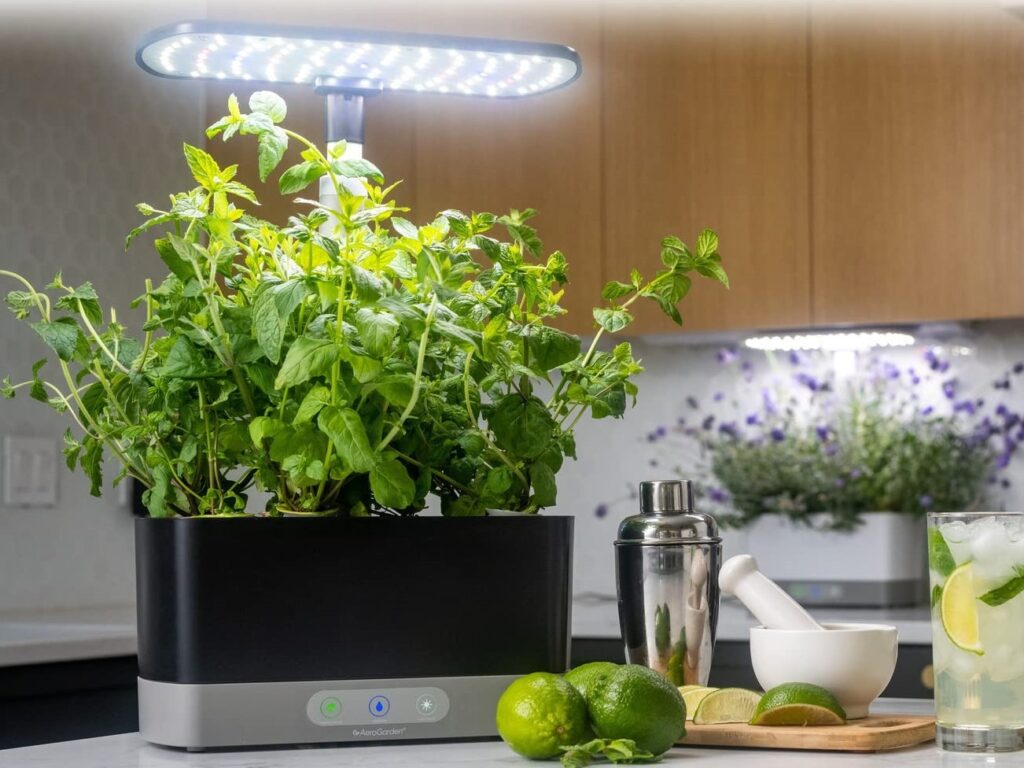 Enjoy a bountiful harvest with the AeroGarden Harvest XL Bundle. This bundle comes with the AeroGarden Harvest XL, 18 seed pods, and plant food. Its seed pods include gourmet herbs, an heirloom salad mix, and jalapeños. You can grow up to 6 plants at a time.
Its trellis adjusts to a height of 18 inches so your plants have room to grow. The grow light has 25W of power and provides the optimal lighting for your herbs and plants. It also has a larger bowl than previous models so your plants can grow bigger.
You can easily operate your AeroGarden XL with its touchscreen control panel. The machine can be set to have automatic reminders for adding water and plant food. It's easy growing with the AeroGarden XL – just adjust the lamp trellis, add your water and plant food, and insert the seed pod kits that came with your package.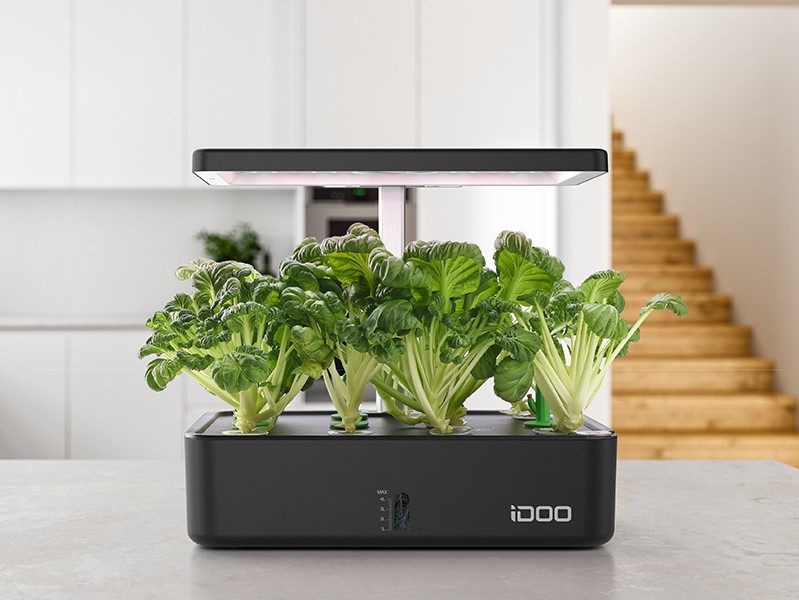 Have everything you need to grow all your favorite plants with the iDOO Hydroponic Growing System. You can grow up to 12 plants at a time with a height of 11 inches. The iDOO growing system has 2 growing settings: Veggies Mode and Fruit and Flower Mode, which balances the lighting according to the plants. Its 22W LED light has an automated timer that turns the lights on for 16 hours and off for 8 hours, simulating natural sunlight. The height of the light can also be adjusted according to the growing stage of the plant. 
The iDOO Hydroponic Growing System has an independent 4.5L water tank that lasts for up to 2 weeks with a visual window that will help you see if you need to refill it. An integrated low-noise hydroponic pump aerates the tank to stimulate plant growth. The machine also has a built-in fan to spread pollen and disperse heat during the germination process.
Included in your iDOO kit are 2 plant nutrient bottles, 24 growing sponges, 12 containers, grow domes, and plant tags. There are also 6 plant covers for when the slots are not in use. The iDOO Hydroponic Growing System is perfect for planting herbs, salad greens, tomatoes, and more.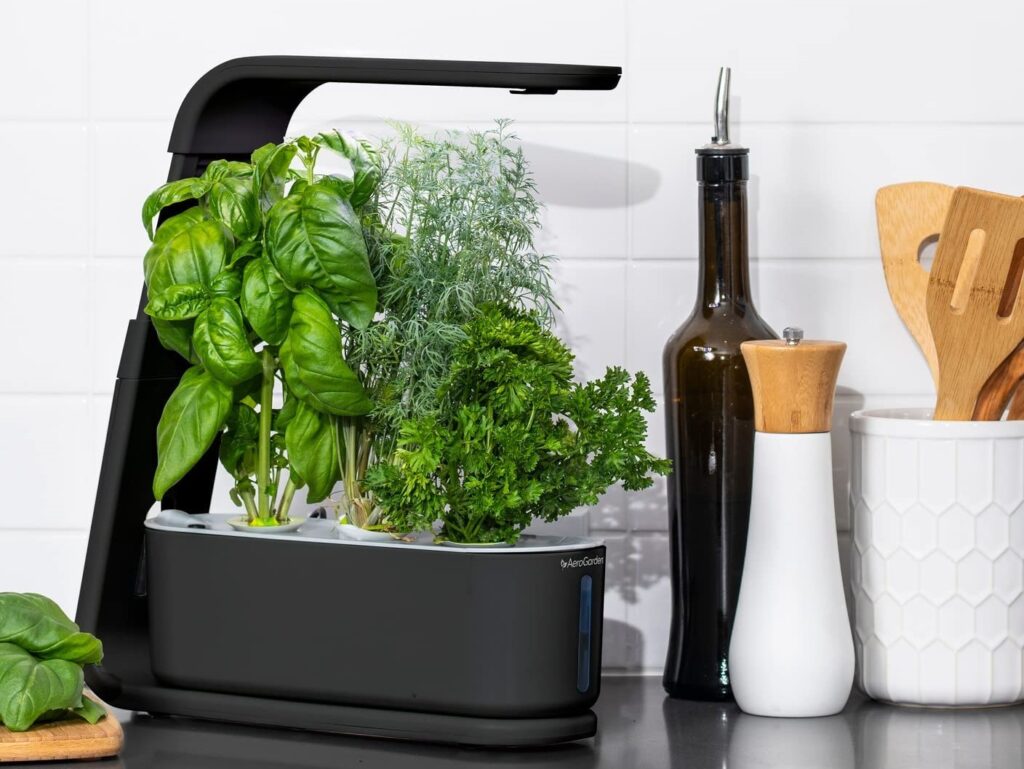 Enjoy plant-to-plate goodness with the AeroGarden Sprout with Gourmet Herbs Seed Pod Kit. The AeroGarden Sprout can grow 3 plants of up to 10 inches at a time. With your kit, you get 3 plant pods of dill, curly parsley, and Genovese basil. Also included in the kit is a 3oz bottle of AeroGarden's patented plant food which is enough for a full growing season.
The AeroGarden Sprout has been redesigned to have a new silent pump and a light and plant food reminder control. The machine's grow lights contain 10W red, blue, and white LED lights that help your plants grow 5x faster. It also has an automated timer that makes sure that the lights go on and off at the perfect time.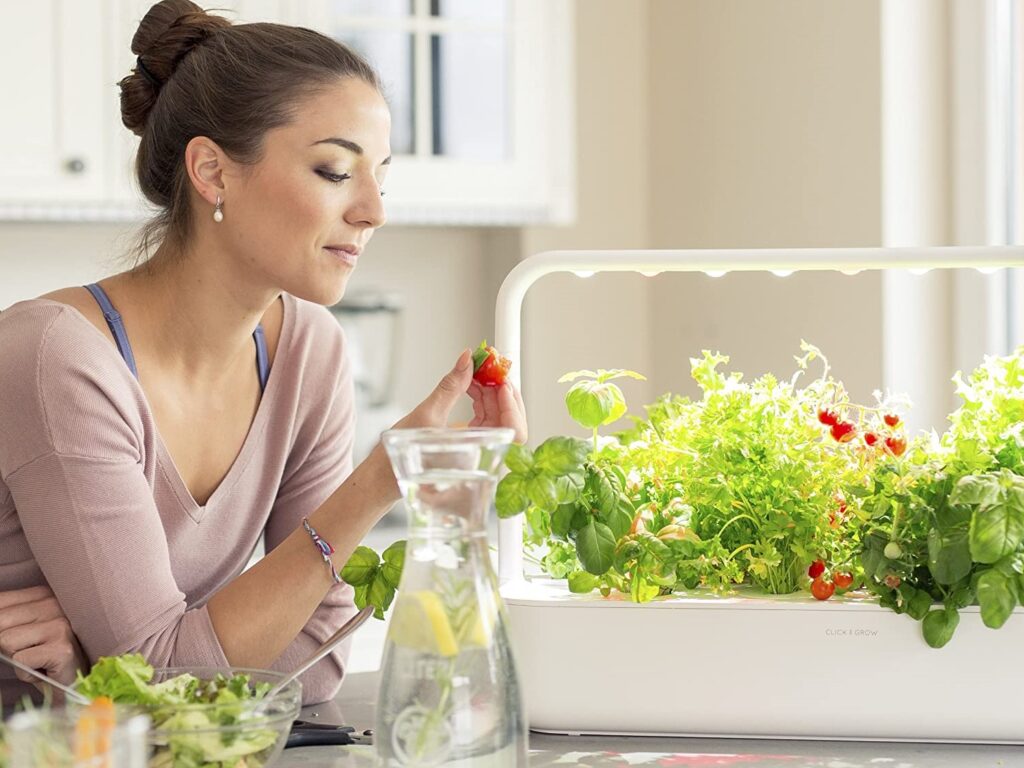 Grow all year long with the smart hydroponics setup of the Click & Grow Indoor Herb Garden Kit. The Click & Grow kit has everything you need with its growing system and 9 plant pods. Your kit comes with 3 mini tomato pods, 3 basil pods, and 3 green lettuce pods. The all-natural plant pods contain all the nutrients and minerals your plant needs so all you have to do is add water to them. Click & Grow offers a growth guarantee so if any plant pods don't germinate, they will replace them for free.
The kit is compact and portable measuring only 24 x 7 x 16 inches and weighing 8 lbs. You can place it on your kitchen counter or window sill. The herb garden distributes water to all your plants and has an indicator to let you know when it's time to refill. Its energy-efficient lamp has a 16 hours on and 8 hours off cycle for optimal growth. Just drop your plant pods, add water, plug in the machine, and watch your plants grow.
The Bottom Line
Maintaining your own small hydroponics systems has become increasingly easy for everyone thanks to hydroponic starter kits that are readily available on Amazon. With these systems, you can start gardening even with little space and time on your hands. So why not give hydroponics a try and get yourself one of these kits? They're perfect for both beginners and seasoned but busy gardeners alike.
From Garden to Table and Table to Garden
We have what you need to start growing your own food indoors or outdoors, as well as turning your food scraps into your own organic fertilizer.