Gardening with Small Space: 5 Great Planters That Will Help You
Bigger isn't always better. With our economy today, owning and maintaining a big lawn will make any green thumb wilt with the cost that comes with it. From high water bills to long hours of maintenance, the ideal yard of suburban dreams won't cut it in today's economy. While gardening with small space may seem like a challenge, it is quite possible. Here are 5 products to help you do just that. After all, it's just as lush gardening with small space.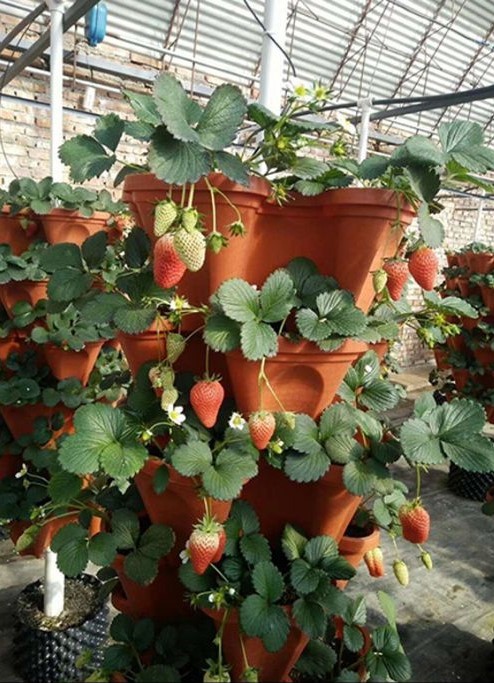 The Mr. Stacky 5-Tier Stackable Planter is a fantastic space-saving solution for those gardening with small space. It is a small, vertical planter with 20 flower pots that have a flow-through design that efficiently distributes water. All you need to do is water the top pot and your plants are good to go! Included with the 5-Tier Kit is a bottom saucer to ensure no water waste.
The stackable planter comes in two sizes, 13 inches and 18 inches, and can be purchased in the colors terracotta, green, stone, pink, black, and blue. It is made of polypropylene which is both food safe and highly durable, making it ideal for both indoor and outdoor gardening. You can grow strawberries, herbs, flowers, succulents, and vegetables in your Mr. Stacky.
The design also allows for ease of transfer as it is lightweight and stackable. You can also purchase a bottom tray with wheels for fast arrangements inside your house. For an even smaller planter option, the stackable planter also comes as a 3-Tier set with 12 flower pots. So, what are you waiting for? Plant and stack with your Mr. Stacky today!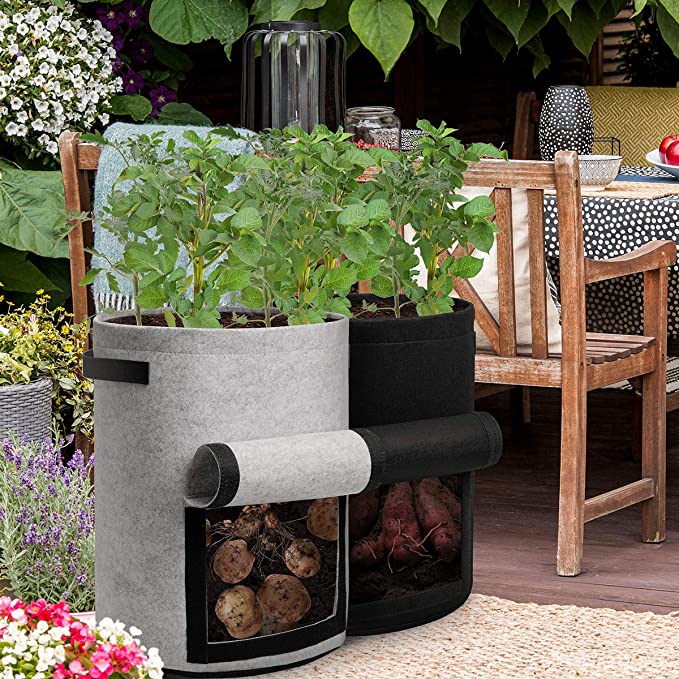 Are you looking to grow some vegetables but don't have a lawn? The Homyhoo Potato Grow Bags might just be what you're looking for! It comes in a 4-pack of fabric grow bags that each have a capacity of 10 gallons. This allows for a stable growing environment for vegetables and flowers. You can plant potatoes, onions, carrots, and more – making vegetable gardening with small space possible.
The Homyhoo Potato Grow Bags are made of breathable non-woven, heavy-duty fabric that ensures proper ventilation and prevents excessive moisture for your plants. Its strong biodegradable material allows for a long service life of the grow bags without worrying about its effect on the environment.
A bonus to the Homyhoo Potato Grow Bags is its large harvest window which allows for easy viewing and harvesting of your crops. It's easy to plant in, move around, and store when not in use. Place it in your garden, balcony, patio, or sunroom. Harvest a cornucopia of crops with your very own Homyhoo Potato Grow Bag.
Don't have a lot of space or a lot of time? The Amazing Creation Window Herb Planter Box is a busy green thumb's best friend. Why? Thanks to its self-watering feature, you can leave your plants be for up to 2 weeks.
Amazing Creation's planter also has a unique watering design that prevents root rot by separating the potting soil in an inner pot away from the reservoir. The inner pot has water-absorbent strips so your plants can get as much water as they need while preventing overwatering.
A see-through window is placed in the bottom corner of the planter to monitor the water level. The deeper design of the planter also allows for roots to grow to ensure stronger and healthier plants.
It's food-safe, fade-free, and crack resistant. This compact planter is perfect for gardening with small space. You can put it on kitchen counters, window sills, and outdoor gardens. Buy yourself a 3-pack of the Amazing Creation Window Herb Planter Box today and write off all of your watering woes.
Add a colorful touch to your garden with the OGIMA metal hanging flower pots. Using hanging pots is a go-to for gardening with small space. Vertical gardening allows you to maximize your floor area.
These pots come in a 10-piece set and in a variety of bright shades. With their detachable hooks, the OGIMA planters are versatile pots that can be hung from fences, railings, and windows, or placed on flat surfaces.
The OGIMA flower pots are made of iron so you can be assured that they can weather the seasons. It also has a drainage hole to keep the soil ventilated and prevent root rot. The individual pots measure 10 centimeters high and have a bottom diameter of 8 centimeters, so finding space for these pots won't be an issue. Get yourself an OGIMA flower pot today!
Gardening with small space doesn't have to mean a cramped garden. The Mkono Ceramic Hanging Planter is a chic 3-Tier vertical planter that will breathe more life into your home. You can plant succulents, herbs, and other small plants in your Mkono planters.
The rectangular pots are made of light and high-quality ceramic and held together by a sturdy and adjustable cotton rope, so it's easy to place anywhere. Be it in your living room, bedroom, or even at a wedding reception, this small beauty will add life to your party!
The Mkono pots are also durable so you can be sure that your plants will grow to be strong and safe in them. Each ceramic hanging planter has a draining hole in the bottom to prevent stagnant water. It also comes with a plug that you can remove when you don't need it. Turn your garden into a mini oasis today with the Mkono Ceramic Hanging Planter.
Great Things Can Come From Gardening with Small Space
While a small garden may seem limiting to a green thumb at first, this list shows that there are still so many benefits to reap from one. A small space is no longer an issue with these cleverly designed planters that help your plants thrive. You can also have a bountiful harvest since these small planters come in sets. So whether you have a small yard or just a room to work with, you'll surely benefit from growing a small garden.
From Garden to Table and Table to Garden
We have what you need to start growing your own food indoors or outdoors, as well as turning your food scraps into your own organic fertilizer.