3 Reasons Why Entomophagy is a Sustainable Food Source
As the global population grows, so does the demand for food and feed. Traditional food supply chains rely heavily on cattle, pigs, and chickens, which have a high impact on the environment due to their contribution to greenhouse gases and their use of natural resources. 
In contrast, producing insects for food can lower the food industry's impact on the environment. Rearing edible bugs uses considerably fewer resources, including less land and water to produce their feed. By incorporating edible insects into our diets, we can make a positive impact on the environment and help fight against climate change. 
The Growing Market for Edible Insects 
In an effort to combat the negative impact of traditional livestock on the environment, there is a growing interest in edible insects as a sustainable food source. With the global population expected to reach 9.8 billion by 2050, producing insects for food is becoming more and more appealing due to their significantly lower usage of natural resources and emission of greenhouse gases. 
How Insects are a Nutritional Food Source 
Most people in the western world might not be inclined to add insects to their diet, but in many other parts of the world, they are a common and popular food source. In fact, according to the Food and Agriculture Organization of the United Nations (FAO), over 2 billion people worldwide eat insects regularly.  
Though the thought of consuming insects may seem unappetizing to some, there are a variety of flavors and dishes to explore with these critters, as well as the added health benefits they offer. Bugs are a great source of protein, vitamins, and minerals that can provide myriad health benefits to those who eat them. 
3 Ways Insect Farming Reduces the Carbon Footprint of Food Production 
Conventional food supply chains require high inputs of energy, water, and other resources, which in turn results in greenhouse gas emissions, land degradation, and water pollution. The use of chemical fertilizers, pesticides, and other agrochemicals further exacerbates environmental problems. 
Additionally, the transportation of food over long distances further increases carbon emissions. Deforestation caused by land-use change for agriculture, especially for the production of meat and dairy products, also contributes to climate change.  Not to mention the expansion of industrial-scale, monoculture farming has led to soil degradation and biodiversity loss. So, how does insect farming help?
1. Low Greenhouse Gas Emissions  
Insect farming emits fewer greenhouse gases compared to traditional sources of animal protein. For example, mealworms, crickets, and locusts emit around 100 times less greenhouse gases than pigs and cattle. This is because insects have a much lower metabolic rate than mammals, such as cows or pigs. This means they produce less methane, which is a potent greenhouse gas that contributes to the warming of the planet. 
Insect farming also produces less ammonia, which is another harmful gas associated with livestock production. Additionally, it can be done on a smaller scale than traditional livestock farming, which means it can be done closer to urban areas. This can help reduce the carbon emissions associated with transportation, storage, and distribution of food. This also means that the food can be fresher and have a lower carbon footprint. 
2. Less Land and Resources Needed 
Rearing edible bugs is an excellent alternative to traditional livestock farming as it requires fewer resources to produce the same amount of protein. For instance, it takes approximately 2,000 gallons of water to produce one pound of beef, while the same amount of crickets requires only one gallon of water. 
Additionally, bug farming requires less land and energy, making it an eco-friendly option. It is estimated that insect farming can produce up to 100 times more protein per acre of land than traditional livestock farming. This is because insects are much more efficient at converting feed into protein than traditional livestock. 
3. Reduced Waste 
Insects feed on organic waste such as vegetable scraps, which can reduce the amount of waste that goes to landfill. Moreover, certain insect species can be used as animal feed or aqua feed, replacing fish meal which is becoming increasingly scarce and expensive. This transforms low-value organic by-products into high-quality food or feed. They are also less likely to transmit diseases to humans and animals, as they are less closely related to mammals.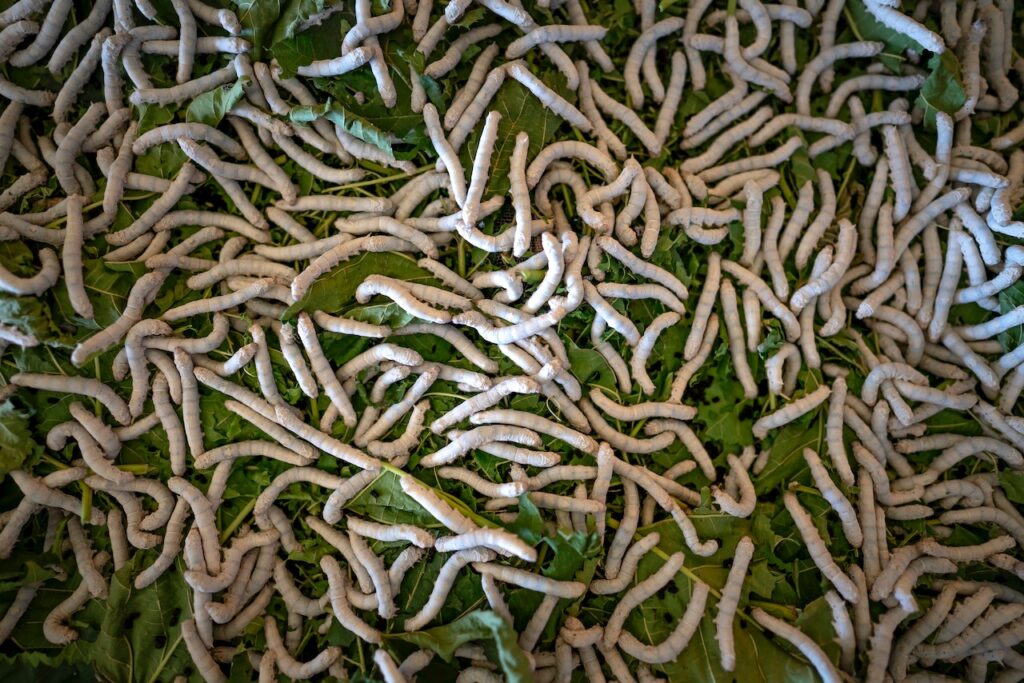 The Bottom Line 
Insect farming is not only a sustainable alternative to conventional meat production, but it also has a low environmental impact. Compared to livestock farming, insect farming requires less land, water, and feed, and generates lower greenhouse gas emissions. 
With the growing demand for protein, it's essential to consider sustainable methods of rearing edible insects that require fewer resources than conventional livestock farming. Overall, insect farming is a promising way to reduce the carbon footprint of food production while meeting the growing demand for protein. 
Start Your Sustainable Food Journey
Crickets? Grasshoppers? Mealworms?
Check out our selection of edible insects and start whipping up nutritious and sustainable meals!